---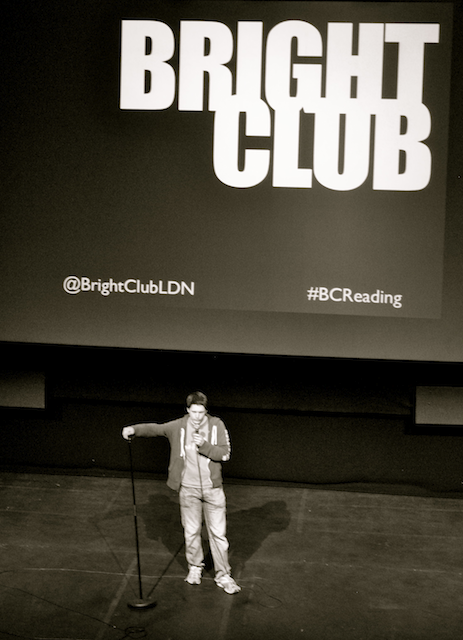 Onstage at the Bloomsbury Theatre
Presenter and Writer
Andrew's first regular experiance on air was as a guest on The Naked Scientists Q&A radio show as Dr Andy, answering the public's questions on science. Finding he enjoyed working as a public facing scientist, he produced and hosted this own radio show The Science of Fiction on CamFM that aired on Sunday evenings, covering the science behind movies, books and TV shows. The show became a live event at the Cambridge Science Centre as part of the Festival of Ideas with a follow-up show on Cambdrige TV. He has also been involved in current news having been interviewed by BBC Radio 5 Live's 5 Live Drive and BBC Cambridgeshire on topical science stories.
He has worked with the BBC on several shows as part of a British Science Assocation Media Fellowship, including Horizon and The One Show, and written for The Guardian's 'Comment is Free' section along with Gizmodo and BlueSci magazine. In 2013 he presented his first show for the BBC World Service called ''What if ... we could all become Cyborgs', and more recently travelled to Versailles to recreate Ernest Beaux's iconic perfume 'Soir de Paris'.
Public Engagement
Andrew has worked on many science outreach and public engagement projects including founding, and for many years organising, Skeptics in the Pub in Cambridge, which holds monthly talks by various speakers with the aim of highlighting the application of critical thinking and scientific method. Notable speakers include popular non-fiction author Simon Singh, statistician David Spiegelhalter and historian Christopher Andrew.
His public engagement work has been supported by several organisations including the MRC; and he was successful in his application for a Catalyst Award from UnLtd and the HEFCE for Social Entrepreneurship to help fund his work. His project received further funding from a Wellcome Trust People Award to produce a range of podcasts that support his events.
Andrew has built on this experience and now provides support and training for national and international events, previously working with organisations including FameLab, Gravity Fields Festival, British Science Festival and the Alan Turing Institute.
In 2015 Andrew was awarded Cancer Research UK's inaugural 'Rising Star in Research Engagement' prize for his work.